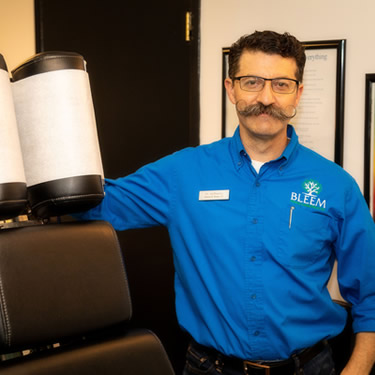 Our Chiropractic Techniques
A Variety of Services
Dr. Renold Bleem uses a variety of gentle adjusting techniques to help provide relief and healing. The primary adjusting techniques we use include:
Activator Methods® – This is a system of spinal evaluation combined with a handheld adjusting instrument that delivers a consistent, low-force thrust.
Acupuncture – The perfect adjunct to your chiropractic care, we use acupuncture for meridian balance, symptom relief and many organic health complaints.
Cox Flexion-Distraction – We use a special table so we can traction your spine, opening up the spacing between spinal vertebrae and relieving pressure to spinal.
Decompression Traction – Our specially-equipped table will ever-so-slowly stretch your spine. And then relax it. Stretch. And relax. Excellent for disc cases.
Diversified – After identifying which vertebrae have lost their normal motion or position, a specific manual thrust is applied to free up "stuck" spinal joints.
Electrical Muscle Stimulation – We use this special type of low level electrical current to stimulate supporting muscles of your spine, reducing inflammation and spasm.
Extremities – While many health problems can be traced to the spine, wrists, elbows, shoulders and knees, other joints of the body can be helped.
Foot Levelers – Problems in your feet can create compensatory problems in back and neck. These custom orthotics can make a dramatic difference.
Intersegmental Traction – We gently add motion to each vertebral joint to increase circulation, reduce scar tissue and enhance the effectiveness of your adjustments.
Laser – This high-tech tool produces light in the red portion of the spectrum, which has been shown to assist in the healing of soft tissues.
Logan Basic – Applying a light contact to the sacrum, relaxes the muscles and allows the "foundation of your spine" to support your body properly.
Motion Palpation – As you turn and bend we'll apply a light pressure to the joint being tested with our fingertips to feel how well things are moving.
Myofascial Release – We'll find tender areas where muscles and connective tissue are producing pain and restricted movement and gently release it.
Thompson – Thompson Terminal Point technique is a system of analysis and a special table that reduces the amount of energy needed to adjust your spine.
Trigger Point – By applying direct pressure or stretching of the affected muscle, we can reduce muscle spasms and flush out pooled blood and accumulated toxins.
Schedule An Appointment
If you've been to a chiropractor before and prefer to be adjusted in a particular way, let us know. We want you to relax, enjoy and fully benefit from your chiropractic care. Contact Bleem Family Chiropractic today to make an appointment!
---
Chiropractic Care Havana | (309) 543-4341