Acupuncture in Havana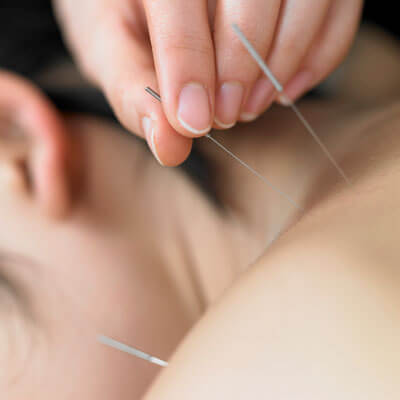 Practiced for thousands of years, acupuncture is a widely used form of Traditional Chinese Medicine. It's a terrific complement to chiropractic care. We use acupuncture for health conditions that seem to be the result of a disruption to the energy pathways in your body. These pathways are called meridians.
Acupuncture involves the placement of ultrathin needles in various prescribed points throughout the body. It's thought that the stimulation of these acupoints promotes the body's natural healing abilities and boosts its overall function.
What Can I Expect?
Before beginning your session, Dr. Bleem will get your history and find out what has brought you in. He will determine if chiropractic should be used first to address the problem, or if it will respond better to acupuncture.
An acupuncture session only takes about 20-30 minutes. After your session, you may feel energized or deeply relaxed.
How Acupuncture and Chiropractic Are Similar
The acupuncture points that lie on each side of the spine also correlate with the nerves that connect with the organs. "So if I'm adjusting the spine it's going to affect the nerves which affect the organs. Or, if I'm doing acupuncture on that part of the spine, it stimulates the nerves that affect the organ. It's all connected that way," says Dr. Bleem.
With chiropractic, you're putting more motion into a joint, which is changing things neurologically. Versus with acupuncture you're addressing more of the blood and chi (energy) movement through an area.
No Need to Be Needle Nervous
We understand that a common concern is the application of needles. It's important to note, however, that the needles are small and ultrathin. They are not large, like a sewing needle or hypodermic needle.
So you may wonder what it feels like. Acupuncture is not a painful procedure. You may experience a slight prick, similar to getting bit by a mosquito.
Dr. Bleem took a 100-hour certification course in acupuncture and then another 200 hours of postgraduate coursework in acupuncture so you can be confident knowing you're in highly capable hands.
What Can Acupuncture Address?
There are many benefits of acupuncture. We often use it on those with arthritis, extremity sprains and strains, failed back surgeries, nerve entrapment problems and more.
It can successfully help to manage or resolve an extensive array of conditions that fall under the following categories:
Addiction issues
Circulatory disorders
Emotional and psychological disorders
Eye, ear, nose and throat disorders
Gastrointestinal disorders
Immune disorders
Musculoskeletal disorders
Neurological disorders
Respiratory disorders
Would you like to find out if acupuncture Havana could benefit you? Contact us today to book a convenient appointment!
CONTACT US »
---
Acupuncture Havana IL